Today we made it into Utah. The landscape is simply stunning. In fact we had great scenery all day.
Out of Denver, we climed over 5,000 feet to Vail Pass. Then we headed back down. And down. And down. In fact, we went down so much that I got 37 MPG that leg!
I have a bunch of pictures to post, but sadly a storm has knocked out Internet at the hotel and I won't be able to upload them. Tomorrow, we'll be in Vegas, so I suspect I'll have Internet.
We're also planning on driving through Bryce Canyon on the way, so look for some amazing scenery there as well.
Sorry for the brief post. I'm writing this on the iPhone and have no 3G network so I'm not even sure it will post. More tomorrow!
UPDATE: The inter-web has been restored! I won't bore you with any more details, but here are some of the better pictures I took yesterday on the drive.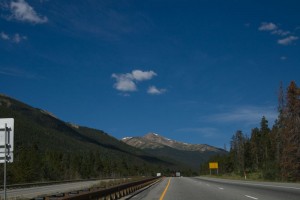 The climb up and out of Denver. We went from 5200′ to over 10,000′!

There was some amazing scenery right next the highway.

More great views. Love the red rocks.

Apparently, they ran out of creative names for places in CO.

Once we got further west, the whole landscape changed.

Gone were the pointy mountains. They were replaced with buttes. Still very cool.

Finally, we made it to Utah. Not sure who the motorcyclist is…

Things got pretty sparse in Utah.

You may have seen news reports of the big storm that went through Denver? We were skirting it all day yesterday.

I'm always amazed at rock formations out west.