With all my thinking of the upcoming iPad and wondering how I could use that in my daily life, one thing I've been working on is a way to be able to keep my most-used files accessible when I don't have my computer with me. In my idealized workflow, I would have a computer in my office at church and an iPad that I take with me wherever. All my needed files would be accessible from home or Starbucks. But how to make this happen? More to the point, how to make this happen without me having to remember to move my files to the cloud all the time?
I toyed around with using iDisk, part of the MobileMe package. It's potentially viable, but a bit slow at church because our internet is slow. And I'm not sure I want to be working in the cloud all the time. I tried iWork.com, but it's really Apple's version of Acrobat.com, which is to say pretty useless. Google Docs is out because I really don't like working in their interface. I wanted to be able to take my iWork documents with me and have them accessible on my iPad (I'm writing this like I have one…and I don't, and may not even get one, but for the sake of argument…).
Then I saw the little DropBox icon in my menu bar. I really haven't used DropBox much, though I always liked the concept. If you've not heard of it before, it's a web-based service that also includes a desktop app. Install DropBox on your computer (Mac or Win) and it creates a "DropBox." What ever you drag into that folder will be synched with the DropBox in the cloud. You can share it, log in via a browser to get it, or have it synch back down to another computer using the same login. It's all in the background and very seamless. Best of all, you're always working locally; and as soon as a file changes, it's updated in the cloud. No thought process at all.
The trick for me is that I'm an organization freak. I like my files neatly organized into folders so I can keep track of them. Here's a look at my Coast Hills folder (for managing all my work-related files).
A place for everything, everything in it's place.
I go to this folder more than any other, so I put it in my sidebar and even have Finder set to open this folder every time I create a new Finder window. In order for DropBox to work, however, I needed to put my folders in the DropBox folder. That messes with my system. I could put the entire Coast Hills folder in there, but I have a lot of files I don't really need to synch to the cloud (audio samples, for example; very big). And I didn't want to split my folders up. Then the lightbulb went off—Aliases!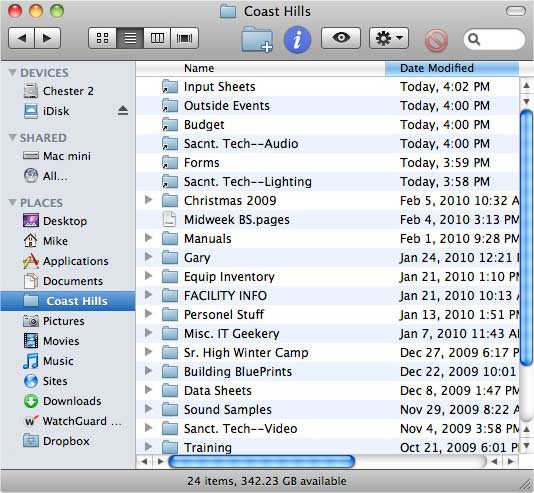 Notice the little arrows on the icons in the top folders. They're not folders, but Aliases to those folders.
I've tried to put Aliases from folders into DropBox, but that just copies the Alias, not the files inside. But why not put the actual folders in the DropBox folder, and create Aliases back to them from my Coast Hills folder? That way, as far as my workflow goes, when I open Coast Hills, I see all my folders, even though they're physically located (as much as anything is "physically located" on a hard drive) in my DropBox folder.
The actual folders & files reside here.
When I open the Alias of "Outside Events" which is in my Coast Hills folder, the OS takes me to the actual folder in DropBox, as you can see from the path dropdown.
I'm really tricking myself into thinking the files are in Coast Hills. But they're not.
This way, my workflow stays in-tact, I don't have to do anything different and my files are automatically synched with the cloud. I can even get them on my iPhone if I want. Yeah, there's an app for that.
Every file is right there; easy to open, view soon, edit in iWork on the iPad.
DropBox is also cross-platform; which makes it a great way to get files from your Mac to a PC or visa-versa. And it's kinda like off-site backup to boot. Oh, and did I mention it's free? Well, for the first 2 Gigs anyway. Right now I'm using 4%.