This week, I'm taking a break from my CTA Classroom series, mainly because it's been a crazy-busy week. We've had a lot going on at Coast Hills, and there is a lot going on behind the scenes at CTA. So, I thought I'd give you a quick run-down of what's coming in the next month or so.
Rechargeable Battery Test
One of my most popular series of posts was last year's rechargeable battery test. As far as I can tell, I did one of the more comprehensive, real-world tests of how rechargeable batteries hold up in wireless mics. Now that we've been using the cells for a year, I thought I would do a follow up post to see how they're holding up. The results may surprise you…or not.
Environmental Projection Recap
Yesterday, we were privileged to host Camron Ware and his roving band of projectors as he talked to us about and demonstrated Environmental projection. He had some great thoughts, and the images are stunning.
Even in a room that's not optimal for EP, it still looks cool.QSC K-Series/EV LiveX Shootout
After Camron left for the airport, we moved over to our community room to fire up some powered speakers. We spent about 4 hours listening to and playing with K12s, KW12s, LiveX 15s, LiveX 12s and all the subs. The results went pretty well, and we thought we had a winner (though it was by a nose) until we threw up one more set (that I wasn't planning on testing). Then the entire game changed…
The new LiveX are finally shipping.
How will the 2-year old K Series hold up?Symetrix Jupiter DSP
The other thing we tested yesterday was the Jupiter 8×8 processor. On paper, and in the offline editor, it looked like a great processing option for our student/community room. After spending the afternoon with it, will we move forward with an installation?
Could this be an ideal installed DSP?
APB/Dynasonics ProDesk 4
While we were playing around with speakers, a truck pulled up to our dock and dropped off something I've been wanting to play with for a while; a ProDesk 4. As we re-capped in our Digital vs. Analog series of webinars (Part 1 and Part 2), digital is not right for everyone. And if you're going to go analog, go with good analog. I've heard nothing but positive things about the ProDesk (and the entire APB line for that matter) and am eager to get my hands on one. And now it's in the loading dock. How fortuitous!
Analog: It's not dead yet!
New Shure Mics
Since my QSC rep is also my Shure rep, he brought down a series of new Beta mics to for me to play with. I have a Beta 91A, two varieties of Beta 98, but the one I'm most interested in is the Beta 181. It's an all-new mic with interchangeable heads and is supposed to be wonderful on guitar cabs and as overheads on drums. We'll be testing them over the next few weeks.
It's pretty, no?NAB CoverageI've been wanting to do this for some time, and this year it's coming together. Thanks to the generous support of DPA Microphones, Van and I will be doing a whole series (24, we hope!) of short videos from NAB. We plan to highlight new products, interview manufacturers and bring the NAB experience to your desktop. We're totally stoked to be able to do this, and a bit frightened that it's only a few weeks away. If you are going and need a pass, click here. Keep an eye out for our coverage starting the week of April 11.
Register Here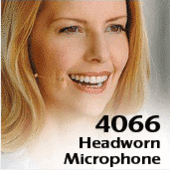 Support our Sponsor, DPA!So that's about it. You can see why I'm pretty excited. Lots of good stuff is happening, and we'll have lots of great content to bring you over the next few months. Thanks for reading!